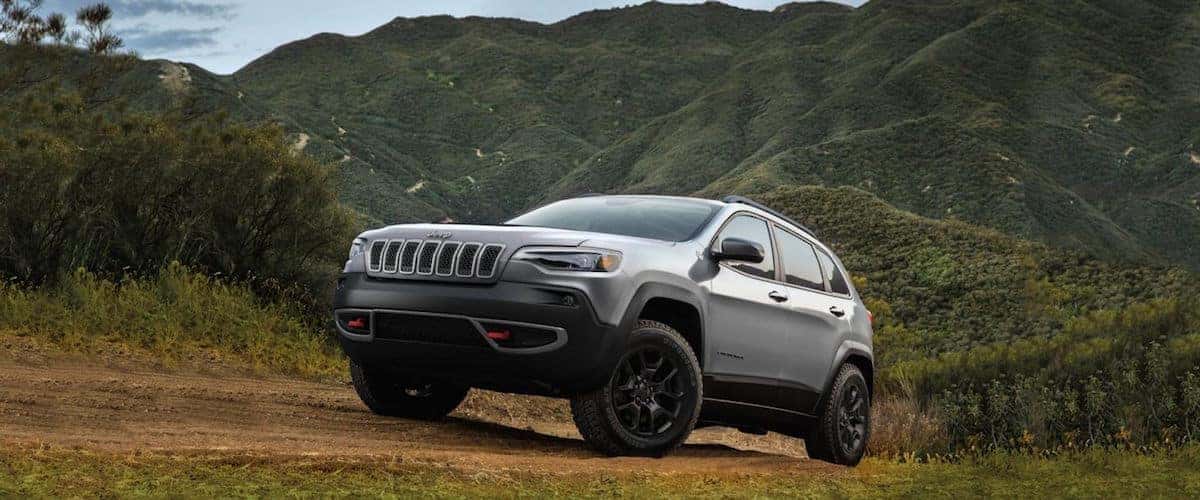 Jeep Cherokee Trailhawk
---
Maximize Your Adventures in a Trailhawk
The coveted Jeep Trail-Rated badge is not easy to come by. It takes a finely tuned and crafted machine to overcome the most brutal terrain on the most demanding of courses. With the Trailhawk series, you get tough, real off-road SUVs that have been tested hard and pushed to the limits. You can go anywhere in a Jeep Trailhawk.
Ability to Traverse Water
Whether you mean to or not, you will be able to ford water quite easily in the Jeep Cherokee in Tyler, TX. You won't have to worry about getting stuck, especially if it is just a tiny water body when you are behind the wheel of this popular SUV.
There are water obstacles everywhere, and with the high air intake and water sealing, you won't have to worry about damage to the vehicle.
Incredible Ground Clearance
It might not look like it to the naked eye, but the Jeep Cherokee from Carthage CDJR has incredible ground clearance. You might be thinking, why does this matter to me? Well, if you are an off-road enthusiast, it matters. There's enough ground clearance to prevent you from getting stuck and damaging the vehicle's underside.
Now is a great time to explore all that the Jeep Cherokee has to offer in Tyler, TX. Visit our dealership to take one for a test drive with a member of our knowledgeable and friendly staff.
Impressive Articulation
The Jeep Cherokee has impressive articulation that allows you to traverse just about any terrain you come across in Texas. You will have no problem climbing over significant obstacles while off-roading and still keeping your tires connected to the ground.
Solid Traction
When it comes to off-roading, traction is an essential feature. If you don't have enough traction, you will have trouble maneuvering through rough terrain. The Jeep Cherokee features the Jeep 4×4 system to provide traction to the correct tire when it requires it while you are traversing rough terrain.
Let's talk about how you can find yourself in a Jeep Cherokee Trailhawk in Tyler, TX. Visit Carthage CDJR to take one for a test drive today.
Easy to Maneuver
The Jeep Cherokee is incredibly easy to maneuver so that you can avoid or climb over rocks, tree limbs, logs, and other obstacles while out in the wilderness. When you're approaching a tight spot in the woods, don't think twice when you are behind the wheel of this impressive and popular SUV model from Jeep.
The next time you are in the market for a new SUV, look no further than the Jeep Cherokee from Carthage CDJR. You will be pleasantly surprised at the traction, maneuverability, articulation, and other features that help you traverse the toughest terrain Mother Nature has to offer.
Adventure is waiting for you. Put yourself behind the wheel of this impressive SUV so you can get the most adventure out of your off-roading experiences.